Argentinian Hearts of Palm Salad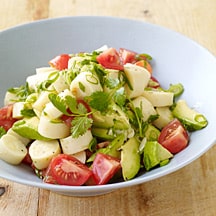 5 per serving | prep:15 min | serves 4
Ingredients:
3 Tbsp water
2 Tbsp fresh lime juice
1 1/2 Tbsp extra virgin olive oil
1/4 tsp table salt
1/4 tsp freshly ground pepper
3 Tbsp sliced scallions
2 Tbsp fresh, chopped cilantro
14 oz can hearts of palm, drain and sliced 1/2in thick
2 small tomatoes, roughly chopped
1 medium Hass avocado, peeled and sliced
Prep:
In a serving bowl, combine water, lime juice, oil, salt, and pepper; stir in scallions and cilantro.
Add hearts of palm, tomatoes, and avocado to bowl; gently toss to coat. Yields about 1 1/4 cups per serving.
Recipe found at: www.weightwatchers.com