Pumpkin Sweet Potato Soup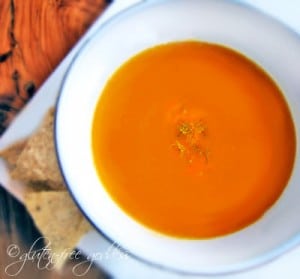 Serves 6
Ingredients:
2 tablespoons olive oil
1 medium onion, diced
4 medium carrots, peeled, chopped
2 celery stalks, chopped
1/4 to 1/2 teaspoon ground ginger, to taste
1/4 teaspoon nutmeg
1/2 teaspoon curry powder- mild or hot, to taste
Dash of sea salt and freshly ground pepper, to taste
1 14.5-oz. can pumpkin (or 2 heaping cups fresh, peeled and cubed)
1 medium sweet potato, peeled, cubed
6 cups light vegetable broth
1/2 can coconut milk, to taste
Lime zest for garnish
In a large pot, heat the olive oil over medium heat, sauté the onion for about 5 minutes until softened. Add chopped carrots and celery, and stir spices. Lower heat and gently cook for about 10 minutes, careful not to brown the onions.
Add in pumpkin, sweet potato and vegetable broth; stir together. Cover and bring to a slow simmer, cooking for about 25-35 minutes until the vegetables are tender.
Remove from heat, and puree the soup with an immersion hand blender right in the pot; or puree in batches in a blender or food processor (carefully ladle the soup into a blender not more than half full, cover tightly and puree the soup until it is smooth and creamy; return the puree to soup pot).
Taste and adjust the seasonings.
Return the pot to low-medium heat. Stir in the coconut milk and blend till smooth. Warm throughfor ten minutes- make sure not to boil.
Serve in bowls with a sprinkle of lime zest.
Read more: http://glutenfreegoddess.blogspot.com/2007/11/pumpkin-sweet-potato-soup.html#ixzz3KqvGzbGV